Mustard is my favorite color.
Not Indigo.
But there's something about summer and Indigo that makes my heart swoon ..be it kurtis or tie and dye home linen.
Oh..are you also wondering how come fashion brands here, and if you are on the wrong blog? Nah..it is indeed "dress your home".
I gave it due thought before putting up this post. As much as I hate to admit, the ads are ever so distracting and before one realizes it, a good 30 minutes has whizzed by browsing kurtis, dresses, and what not. Thankfully, self-restraint means only the shopping carts are filled and the items are mostly waiting to be checked out until the moment passes on and sanity checks in. This happens ever so often. A consequence of this habit is that I'm familiar with most brands, the designs of which appeal to me. I'm putting up some items from my cart out for y'all.
Brand: Lavanya — Indigo cotton block printed kurta for Rs.1125. Pair it with straight white pants, or even fuchsia.
The brand has an impressive collection of indigo kurtas. On other I love is this one, again for Rs.1125.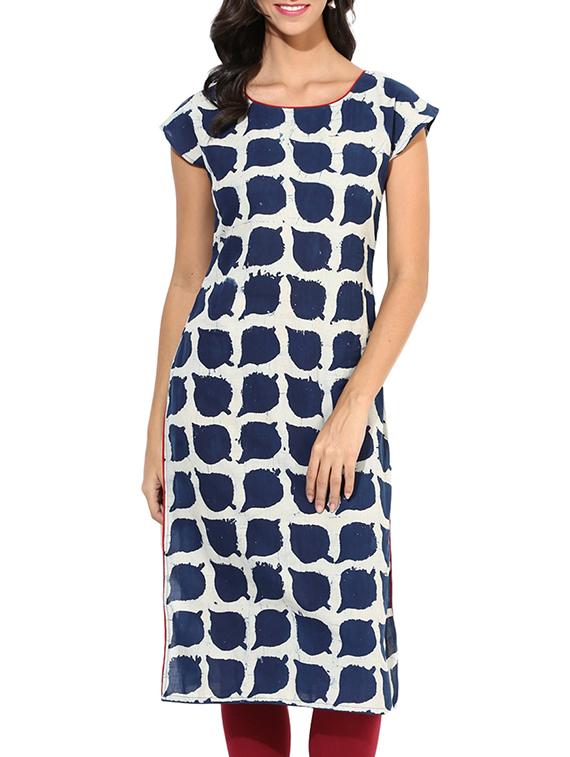 Brand: Indibox — Indigo, white cotton kurta for Rs.1160. The bold block prints stand out. Do check out the kurtis and dresses in the same print. They are lovely too.
Brand: India Dobby – Long blue kurta for Rs. 1299. What I like about this one is its simplicity and angarkha style.
Brand: Bhama Couture – blue and white printed anarkali kurta for Rs. 714. This one is my favorite that has stood the test of time in my cart.
Brand: Indie Picks on AJIO – kurta fabric in linguistic-inspired print for Rs. 450
Brand: Melange – navy printed A-line kurta for Rs. 899
This is not a sponsored post. I may or may not have tried some, but do not vouch for any to keep it objective.
Do leave a comment if you share my habit of filling your carts and what items are on your cart now and what brands are your favorites.
Image courtesy: linked below every image