As a kid, I was fascinated by atlases. Yes, there was a time (5th grade?) when I knew all the countries/capitals in Africa and South America. However, there were two places that I longed to visit: Cyprus and Austria.
I'm really not sure where the seeds for Cyprus were sown, but I'd like to believe it was looking at all those fresh vegetables and fruits in the Central vegetable market in Bahrain. I wondered what kind of a country it would be that grew these gorgeous oranges.
When I saw images of this beautiful property in Cyprus on Instagram, my memories were rekindled. I reached out to Amanda who was gracious enough to share the history behind the renovation of this property.
This dreamy villa bathed in white called "Villa Meraki", is a spacious and secluded villa, situated just a short walk from picturesque Pissouri village, a 5-minute drive from the beach at Pissouri Bay and only a 30-minute drive from Paphos.
THE STORY
My in-laws have owned Villa Meraki in Cyprus for over 20 years and it is, as the name Meraki means, a 'labour of love'!
I am a stylist based in Australia, and I renovated the villa recently since we decided to start letting it out. I added concrete floors and did a complete redesign of the decor, which started, as I always do with pure white walls!
During the renovations, we found so many amazing family heirlooms that had been hidden for years, and part of the joy of redesigning the house was being able to mix these beautiful old pieces with creations from local artisans (like the door hooks on an antique pita breadboard in the hallway) and auction house finds, to create an individual look.
I am a huge fan of Amber Lewis and love how she mixes pieces to put her unique stamp on the incredible homes she designs.
ABOUT VILLA MERAKI
The house accommodates 12 people and is very popular with families. It has 5 en-suite bedrooms and is set in 5000sq m of gardens with a private pool. Set within 5000 sq m of gardens, the villa offers complete privacy, with the restaurants and bars of Pissouri Village just a short walk away and the beach a 5-minute drive. This well-equipped villa is great for big groups of all ages and very family friendly.
It is available from €215 per night on Airbnb.
WHAT I LIKED ABOUT THE PROPERTY
It's simplicity, light-flooded rooms, white-washed walls, furnishing, the warmth of wood, restrained decorating, Mediterranean touches, and comfortable no-frills outdoor seating in a picturesque setup.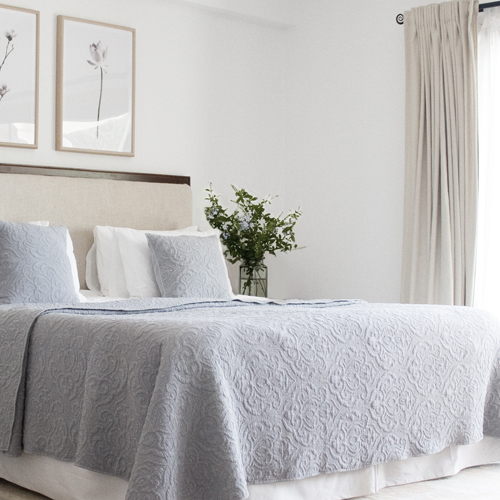 Image courtesy: Villa Meraki