This post is a curated list of 5 Airbnbs in Bangalore ~ a city that's grown so notorious for its traffic. The USP of these properties: design and location!
There were a bunch of places we were to eager to drive to last week. From Sakleshpur to Pondicherry, all these places are well within the 350-Km radius from Bangalore.
And it is a comfortable six-hour drive that doesn't exhaust you to crave for a vacation-at-the-end-of-vacation
.
The only glitch? Most places
were sold
out.
Of late, this is a story that pans out every long weekend and we find ourselves holed in within the confines and familiarity of our home
. I'm not complaining for the community on most days feels like a resort in itself.
If you are a non-planner like us, you may find our story familiar. A vacation is an escapade from
the madness of the city, the incessant sounds, and the familiarity of daily routine. This may sound bizarre, but actually staying in the city has proven to be a good vacation
.
Bangalore, India. A garden city (once).
With most of the city heading out of town for holidays, the roads are free enough to zip around, restaurants not brimming with people as if they were offering free food, and the streets less crowded to soak in the pleasures of the big city ,
just
like old times
.
I have it now sorted out: hop on to the Metro, visit a new neighborhood, eat food at a place you've never been to before, come back home, watch Netflix
.
If you want to take it a step further, and stay in the neighborhood
just
for the excitement and novelty without a hole in your pocket, even better
. Here are 5 stunning Airbnbs in Bangalore that will you give the holiday vibes.
This place
is tucked
in a quaint corner of an otherwise busy neighborhood.
Whitefield has everything going for it – greenery, courtyard, a rustic feel to give the holiday vibes, and serene feel if you are in the mood to unplug yourself
.
A hip, studio apartment in Central Bangalore
The one thing that has it going for this place is its location. It's at the heart of where action is. So you can be out and about late in the evening to come back to a calming oasis of blue. Beautifully decorated, this studio apartment overlooking trees is tastefully done.
If you want to be a home body and just enjoy the tranquility of a space amidst nature, then this place may be what you are looking for. Far away from hustle and bustle, the decor is soothing and minimalist.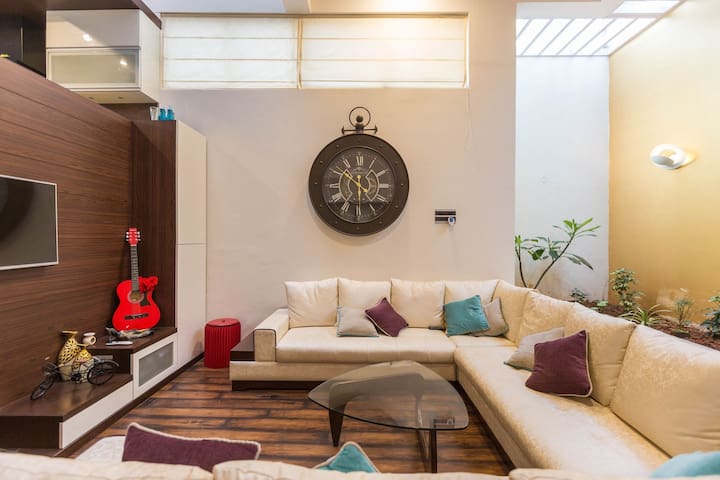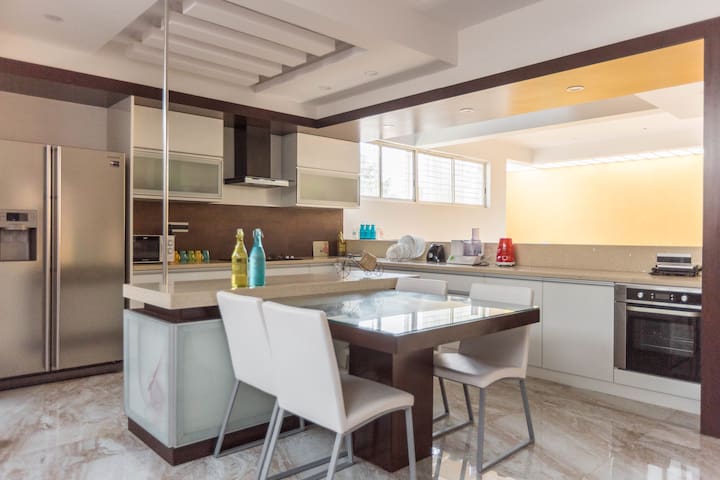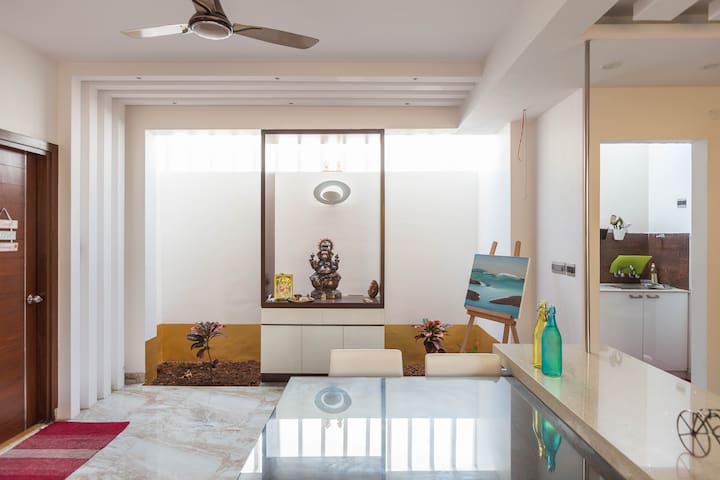 Private room in a botique hotel – Utse
If you are looking for a crash pad or den, then this may just be what you are looking for. Who knows even the rooms may be named after what you are craving for. Rest assured the place is decked up to rejuvenate yourself by soaking in some art or stretching your muscles with yoga.
Room in a architect-designed flat in Indira Nagar
Indira Nagar will always have a soft corner for me for that is one neighborhood I associated myself with the most. who knew 20 years ago that this sleepy haven will transform into what it is today. I have my heart on that adorable trunk and the patterned floor that reminds me of Bharat Flooring. This place is designed and owned by an architect, which in retrospect I think is quite evident. Perfect for a weekend getaway if you want to soak in all that the neighborhood has to offer and not want to travel back and forth.
Rest assured, I have not stayed at any of these places nor have I visited them. The aesthetics and design sense appealed to me.
Image courtesy: Links to respective properties at the beginning of each one of them
First image: Airbnb in Indira Nagar