Do we have any diligent readers (read: obsessively checking Google Reader for new posts) of Apartment Therapy here? If yes, you would know that a good chunk of posts are about restoring or transforming old furniture through painting and replacing the hardware. Images of antique, worn wooden cabinet/dresser/table painted into white or turquoise blue are swimming in my head now.
For me, when it comes to home renovation,  there is nothing more satisfying than giving a face lift to old furniture. To discard the old and buy new stuff is easy work, don't you think? There are a few odd pieces of furniture in every house such as a chair, cabinet, side table that look aged.  A polish or a new coat of paint will do them good. I want to get started off with a old cabinet first.  It's about six years old and in good working condition. It has lost its sheen so I'm toying with the idea of retaining its natural finish with a coat of lacquer or doing something radical like painting it in a bold color combination of white-lime green or white-turquoise blue.
I've been looking around for ideas and there are quite a few interesting ones that I would like to share.
For a ethnic, Indian theme, bright colors such as fuchsia, red or violet are a good choice to complete the look. However, if you have a monochromatic or minimalistic theme, a single of furniture in a dashing color will look out of place. In the picture below, for instance, Kishani Perera has used a good mix of ethnic elements like hand-carved open book case, painted trunk as center table, cradle-styled chairs, and printed cushions. All the accessories blend well with the bright orange colored walls.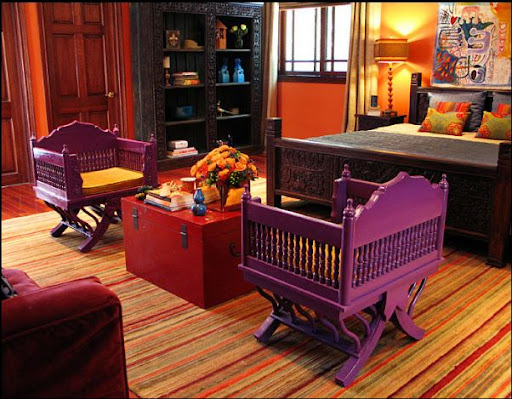 For a minimalistic look, Mary of pretty good has kept it simple with a white table in the entryway of her seaside home.
Other pieces of furniture around the house reinforce the same theme.
White is safe, after all, there is very little one can go wrong, right?
The most preferred color in Western interiors for painting old furniture is turquoise, other than white.Since the walls are usually white, a bright color such as this looks good. But, I doubt if it would go well with our interiors.
The last option, that I'm leaning towards, is going kitsch. The cabinet has a Bose radio system on top of it. So, I would like to make the top a decoupage of posters from movies we like, while the sides and doors will be painted in white.It's quite an ambitious project!
How would you transform your old furniture? I'm looking for ideas….
Image courtesy:
Kishani Perera – Indian furniture
Art by Aarohi -Kitsch
Mary's house via The Stir