Weekend is here. Yay! What are your plans? We have a few site visits lined up for Sunday.
Since March, we've clocked hundreds of miles, numerous nights on the laptop browsing through craigslist, Saturday mornings on the phone with brokers/builders and several hours on the road in our search to find the perfect apartment. A second home. As with any home buyer, three criterion have always stayed on top of the list: location, price, and plan, in no particular order. And, if we have rejected a project, it's primarily because we couldn't compromise on one of these. Our hunt has taken us as far as Anekal in South-east to Dodaballapur in North-west.
This series on Apartment Hunting is a slight deviation from the concept of this blog, which is interiors and dressing up one's apartment or house. But, you know what, the marketing managers of every project we've visited till date have been super busy. With an overwhelming number of prospective buyers crowding the market, I believe there is a renewed interest in investing in a property. So, I feel, you as my readers, may benefit if you are planning to buy an apartment. I will list out all the new/resale apartments in this three part series that we've seen in no particular order.
A caveat before I dig deeper: I'm not a broker, not associated with any builder, and neither do I get any commission for this free advertising. If you have any queries regarding a project, please contact the builder/broker.
All the apartments are located in Bangalore East between Marathahalli and Whitefield. They are 3-BHKs priced between 55 Lakhs and 80 Lakhs. Come, join me on this virtual apartment hunt!
Let's begin with Esperenza by UKN.
All the apartments have been sold by the builder. However, there are a few which are not yet registered and are available as is (without any interiors or wood work done). The downside is there is little scope for structural modifications now. The row house project is currently going on.
We did not see the model apartment, so it was easy to judge. Model apartments make the decision tough as the interiors hide the otherwise obvious flaw in a plan. It's difficult to visualise  your stuff in a done-up apartment. When you've purchased one, it's a different story, as model apartments can give you ideas.
What I liked (in this order):
1. The landscaping and open area outside.
2. The private individual apartment look. Most apartments do not have a house opposite them and have a small private alley.
3. The balconies with access from all bedrooms.
4. Good ratio of super-built up area/ total area.
5. Good utilization of space inside the apartment with private quarters for live-in help and utility area.
6. Play area and pool.
7. Many families are currently living there, so it's ideal to move in with all the amenities functioning.
8. Great view.
9. Away from the main road, yet not too far away. Close proximity to groceries, library, school, eateries, bus stop  and hardware. Hospitals are a little far away.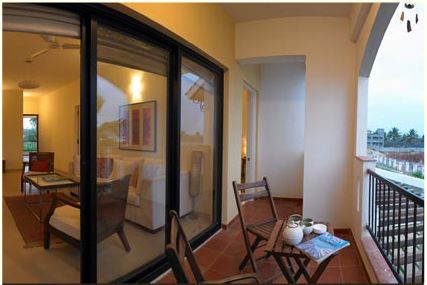 What's not there:
1. Cauvery water connection.
Pricing:
Area: 2025 sq.ft
77 Lakhs + registration
How to get there: Take the road next to Health & Glow on Varthur Road. The property is about 200 meters from the main road next to Tennis Academy.
Wondering if we closed the deal on any project? The answer is NO. But, we have no regrets. Infact, I'm glad we did this exercise because it has got us closer to understanding and acknowledging our DREAM. And, in the meantime, it has taught us to appreciate the great location and all the conveniences of our current home; it has also given me an opportunity to re-do the apartment paving way for a lot of DIY projects and fodder for the blog :)
I'll be back tomorrow with 3 more projects.
Image courtesy:
All images from respective websites/brochures of builders