If you live in Bangalore, have you heard of Grasshopper? The stylish boutique-cum-restaurant has received some rave reviews for housing art, food, and fashion under one roof. I'm told the delicacies are made from hand-picked vegetables and it's a haven for non-vegetarians.
But, the one thing that caught my eye was a gallery on the mezzanine floor of Grasshopper that exhibits handmade paper lamps by Jenny Pinto. I'm a sucker for all things eco-friendly; never ceases to fascinate me. How about some window shopping?
This conical lamp shade made from handmade paper will look stylish and elegant in any living room.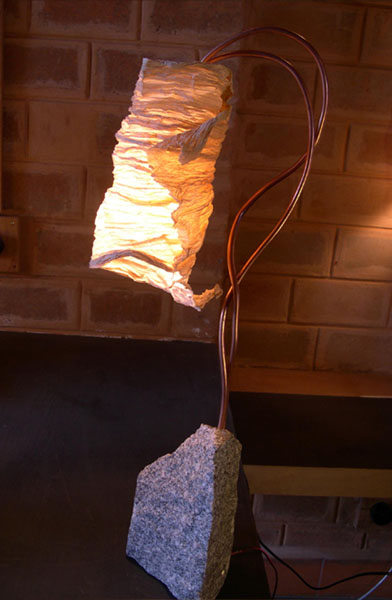 Aren't you dumbfounded by the creative use of materials – stone, copper and banana fiber?
Interesting shape this one, though I have to admit it's a little spooky for my taste.
This chandelier would make for good conversation. Quite unlike the glass pieces our eyes are trained to seeing.
I would love to have a miniature version of this in my balcony and the one below in the dining room.
Image courtesy: