Front Doors ~ more than an entrance to a home.
It's a style statement that sets the stage and expectations for what lies inside. Yes, it's a reflection of a home. You spot a stylish single front door, and you can't wait to step in and see the rest of the home. The main doors at the entrance are like the cover of a book. But, the adage does not hold good for a home. You can judge the style and interiors of a home by its entryway where the best is often on display.
I spent a good part of my growing up years at my grandparents' in two southern towns of Tamil Nadu: Madurai and Kumbakonam. The architecture of the ancient houses in Tanjore district has left a lasting impression on me.
Several hot summer afternoons spent playing hide and seek in the thinnais (the front porch), mitham (the courtyard) around the wide thoons (pillars) and maadi (open terrace) and behind those huge small teak wood doors leaves a bit of nostalgia, you see.
To this day, when I think of main doors, the first image that comes to mind is the heavy main door at my grandma's which is over 140 years old now; it looks very similar to this one.
1. TRADITIONAL CARVING WITH ANTIQUE HANDLE
This is the magnificent entrance of an apartment in Gurgaon. The teak solid wood door has traditional carving on it and is fitted with antique handles. Flanked by a Ganesha on one wall and carved flowers on the other, this one redefines elegance.
2. ORNATE FOYER
The devil is in the details. This is the entrance to Architect Dipa Desai's Mumbai home. The brilliant part of this space is that she has kept the design of the main door simple so as to let the surroundings shine right from the wall treatment to the intricately carved lotus base for the chandelier and the niche. IC: Phxindia
3. ENGRAVED ART PANEL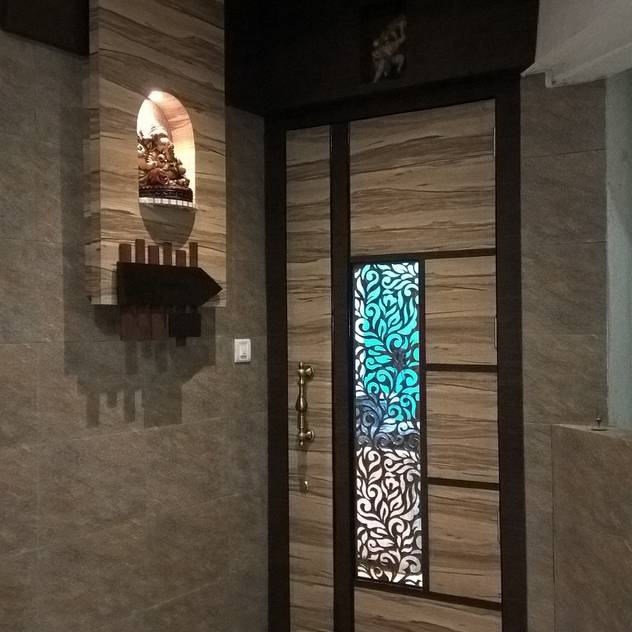 An engraved art panel in an otherwise simple wooden door steps up the style game here. An image of Ganesha is considered auspicious, and you will often find either an idol or tile cladding at the entrance of several Indian homes. Stone wall cladding brings in warmth to the space and blends well with wood.
4. 3D PATTERNED DOOR
This is a creative and cheap way to renovate your existing front door. Clad your door with wooden panels of a design of your choice to create a three-dimensional effect and visual depth.
5. TEXTURED DOOR
This is my kinda door: simple, modern, futuristic and textured.
6. PIVOT DOOR
This 9-foot tall pivot door leads from the foyer into gallery making it the pivotal element of this Juhu apartment designed by Kaizad Dinshaw.
7. LASER CUT PATTERNS
IC: source unknow. Found via Pinterest
Laser cut patterns on front doors are beautiful. One can perhaps choose to be conservative in the number of cut panels to protect privacy. A semi circle tear drop design such as this one is beautiful.
8. SCREEN DIVIDER RE-PURPOSED AS DOOR
IC.Pinterest/source unknown
This is an offbeat idea to re-purpose a screen divider as main door. The wood is not polished as the stains are still visible adding to the attractiveness factor. The central patch of carving offsets the smooth exteriors.