If you live in Delhi and haven't been to The Shop, then you should check it out. The place has a rich history and story behind its creation.The Shop retails a complete range of clothing for men, women and kids, home furnishings such as table runners, place mats, bed linen, duvet covers, and fashion accessories such as totes and bags.  All the products are designed and manufactured in-house by their skilled designers and craftsmen.
I found their products fresh in design, choice of color and nominally priced. Knowing my weakness for multi-color, my favorite pieces had to be this bouquet printed tablecloth and the Chelsea printed table runner. The pieces are quite contrast in nature. The table runner with its soothing colors and natural patterns appeared as if a story was unfolding. Do check out the Samarkhand printed placemats too. I find the grape color captivating and one that is not too common to find.
A few pictures of their home furnishings/decoration range: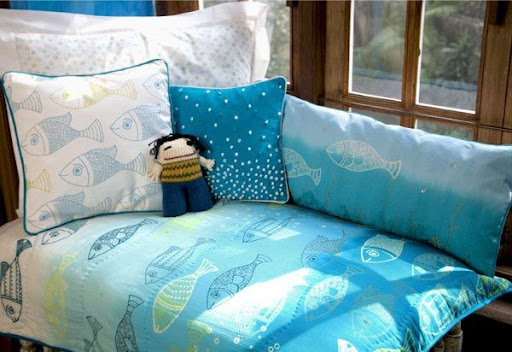 What a cosy corner! With the stack of books on one end and flowers on the other, it makes the perfect setting for a lazy afternoon. The patchwork quilt provides the finishing touches.
Reminded of DDLJ on seeing this bell?
Image courtesy: